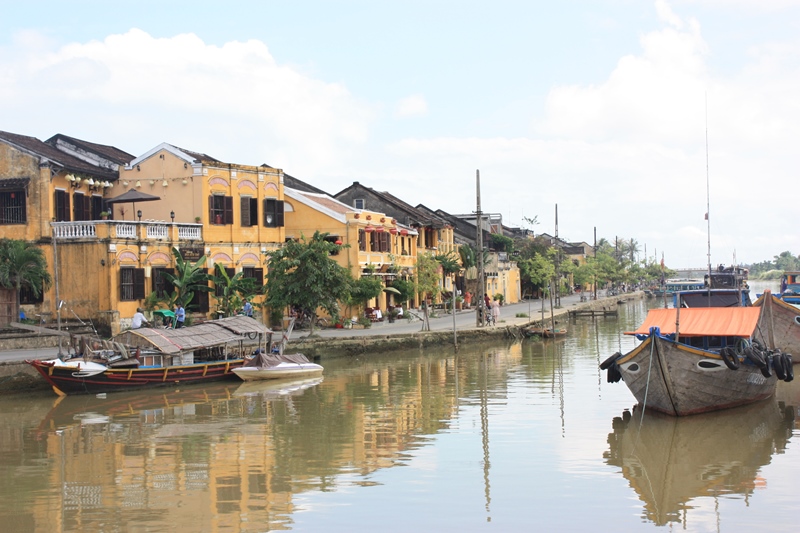 I was recently interviewed by Rachael from All Abroad Baby on my best tips for eating out in Vietnam with kids. If you've been reading since A Girl in Asia days, you may know we lived in Vietnam for a couple of years, moving there from Cambodia with one baby then having a second towards the end of our time in Vietnam. We definitely did our fair share (and then some) of eating out in Vietnam with babies and toddler in tow, and enjoyed taking them back this time last year for a holiday (especially great as they were (just) over that stage of having to explore every restaurant instead of stay at the table!). Overall, I highly recommend family travel in Vietnam – there are so many wins, from fresh, wholesome food to kind, tolerant people.
Read on for my tips and thoughts on food issues in Vietnam, from hygiene fears to ordering options to attitudes to kids in cafes:
What options are there for eating out with kids?
So many! From street-food stalls to high-end restaurants and five-star hotels, and everything in between. There are a lot of family-run restaurants, but if you're new to the region and a little unsure, a good start is a Vietnamese chain, like Pho 24 or Wrap & Roll, which have a fantastic selection of spring rolls and other local snacks served up in a clean environment.
Of course, there are restaurants running the gamut of most popular international cuisines, but if you're in Vietnam for a short time you should probably forego pizza for phở (noodle soup) or steak for bò lá lốt (beef wrapped in pepper leaf).
Is it safe for kids to eat out in Vietnam?
In our time living in Vietnam with a baby, and eventually, a toddler and a newborn (and when we returned on a family holiday late last year), we were lucky to not have any food or drink-related illnesses (though this has occurred elsewhere in South East Asia and it's not pretty!).
Generally, food is prepared hygienically, ice in drinks is manufactured from bottled water and ingredients are extremely fresh, with most people shopping daily for meat and fresh produce. Even my much-frequented 'pineapple lady' at a local market used to sit carving sweet, juicy pineapples wearing disposable gloves, preparing the fruit on a meticulously clean table (despite the dogs, flies and muddy surrounds!).
In fact, contrary to some travel advice, the street food in Vietnam is some of the freshest, healthiest options as the dishes are mostly cooked to order, prepared in front of you and using just-bought produce. Once, when our first baby was about eight months old, a Vietnamese friend bought some quail eggs and noodles from a street vendor and started feeding her without me realising! And guess what? She was totally fine!
What kind of kid-friendly foods are available?
It depends how fussy your kids are, but spring rolls – either fried or fresh – are often winners, as are the many Vietnamese noodle dishes available. Bánh xèo is a crispy pancake filled with prawns, pork and bean sprouts. It's delicious and not spicy at all (before condiments are added). Our kids have enjoyed this at local restaurants.
Grilled meats can also be a hit. And of course, there's rice! Lots of western-style cafes have things like dips with vegetable sticks and healthy sandwiches, or the old kid-friendly standby – fries. Most kids will love the array of fresh juices on offer too, which are so much healthier than the preservative and sugar-laden manufactured kind. For hydration on a typical humid day in Vietnam, a coconut sipped with a straw is novel and delicious for most visiting children.
What are people's attitudes to kids in cafes and restaurants like?
Overall, Vietnamese diners are extremely warm and welcoming of children, often noticeably more than at home. In terms of facilities, some high-end or westernised restaurants may have highchairs available, but many don't, so if you have older babies or toddlers, you may like to bring a fabric tie-on seat to use. On a holiday when our youngest was just over one, it was the most useful thing – no squirming toddler on our laps while eating, and she felt secure and comfortable (while the attention span at the table lasted anyway!).
Generally, young children are doted on in public places in Vietnam, and if you have a baby, people may want to touch or hold them, which can turn out to be a useful thing! Your kids may also be given free things to eat as 'treats' by well-meaning strangers, and these will usually be something sweet, or packets of chips!
What if I need to change my baby's nappy or breastfeed?
Nappy changing facilities are few and far between, so you'll have to improvise with a portable change mat (another recommended must-bring). Unlike in Australia – or even places like Singapore – it's rare (or even impossible) to find a dedicated breastfeeding space, so again, improvisation is necessary.
I never felt entirely comfortable breastfeeding in public in Vietnam, unless I had a big sarong or scarf covering my baby (which was awkward and hot). I think it was because I never saw local women breastfeeding in public, like it wasn't the done thing (Vietnamese women have a long period of rest at home after having a baby, and many switch to formula quite early, believing it to be better for the baby, from what I've heard from Vietnamese friends anyway).
Any cafes in particular that you recommend for families?
Generally, most places (aside from trendy wine and cocktail bars with restaurants or very high-end establishments) are kid-friendly, though even some of these are fine if you go in the late afternoon! Some standout venues include Snap Cafe in Saigon, complete with outdoor playground, yard and kids menu, and Dingo Deli in Hoi An, which as you can probably guess has an Australian influence (it's run by an Australian/Canadian family). It features a fantastic wooden playground structure, a sandpit, swings, and even a flying fox.
Parks with playgrounds are few and far between in Vietnam, so cafes with playgrounds are a godsend for small kids to let off some steam. At beach destinations in Vietnam, there are often places to eat right on the sand, which kids (and adults) love. Generally, most cafes cater to kids in some way, though you may need to explain what a babycino is (and you'll often receive a cup of hot frothless milk if you do!). Overall, Vietnam is exceedingly family-friendly, and you may even find eating out is less of a hassle than it is at home!
This post was originally published on All Abroad Baby.