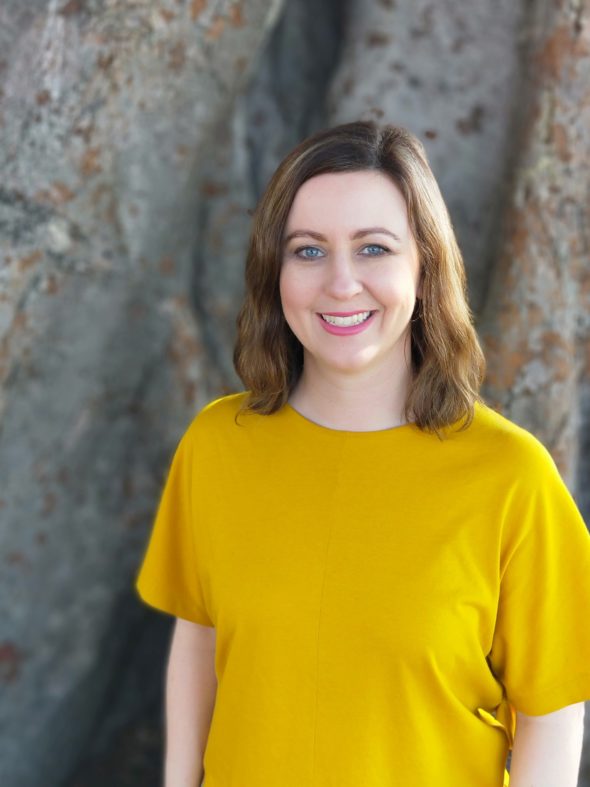 Brief Bio:
Liz Ledden is a Sydney-based kids' book author and co-host of One More Page podcast. Liz's published picture books are Walking Your Human and Tulip and Brutus, with her next title slated for 2023.
~
Longer Bio:
Liz Ledden is a Sydney-based kids' book author and podcaster, living and writing on Gadigal land.
Liz's latest picture book Walking Your Human is about all the best things to do on a walk, according to some cheeky (and slightly delusional) dogs. Her picture book Tulip and Brutus is about friendship, differences, teamwork and bugs! Her next picture book is due out in 2023 with Hardie Grant's Bright Light imprint.
Liz also co-hosts kids' book podcast One More Page with friends, authors and book lovers Kate Simpson and Nat Amoore, where she interviews kids' book industry professionals, reviews the latest books and lapses into the occasional laughing fit. Together, the One More Page team contributed a kids' play to the CBCA anthology Old Worlds, New Worlds, Other Worlds.
Liz has lived in Vietnam, Cambodia and Canada. Before writing for kids, Liz wrote for magazines, online publications and companies. She can typically be found seeking out new cafes or maxing out her library card!
Liz is represented by Sarah McKenzie Literary Management. 
~
Further details:
Podcast
One More Page is an Australian kids' book podcast featuring interviews, book reviews and a kids-led segment. It's available via Apple Podcasts, Spotify and all the usual podcast apps, and was a finalist in the Best Newcomer category of the 2018 Australian Podcast Awards. On the show, Liz has interviewed kids' book creators including Jane Godwin and Anna Walker, Gus Gordon, Yvette Poshoglian, James Foley, Julianne Negri, Gavin Aung Than and more, plus publishers, librarians and booksellers. The podcast team have been interviewed in industry publications including Books + Publishing and the Writing NSW magazine, Newswrite.
Children's Writing
Liz holds an MA in Writing and Literature via Deakin University, majoring in Children's Literature, plus a BA in Media Communications. She's completed writing workshops via Writing NSW and the Australian Writers' Centre, plus the Scribbles course run by author Jen Storer. Liz has won awards for her writing through the CYA and Writers' Unleashed conferences. She also won the Junior Fiction category of the 2020 Scribbles Creative Writing Awards. Details can be found here.
In addition to writing children's book manuscripts, Liz has written numerous short stories for author Tim Harris's Primary Writers business. She also has several pieces soon to be published in The School Magazine.
Liz is a member of SCBWI, CBCA and Writing NSW.
Presentations
Liz has presented at a range of kids' book industry events, including podcast panels with the One More Page team at SCBWI Sydney, SCBWI ACT, CBCA Northern Suburbs and CBCA Newcastle meetings. She was on the CYA Conference Success Panel at the 2020 conference, speaking about her path to publication and her pitching and competition success via CYA.
Liz ran a workshop for writers and illustrators at the SCBWI ACT Conference 2021 about tapping into your talents to enhance your kids' book career. She also presented about her picture book Walking Your Human at a CBCA Eastern Suburbs event and via StoryScoop, a video series for schools run by CBCA and SCBWI. For school bookings in NSW, please contact CKT Speakers' Agency.
Travel Writing
Before delving into the world of kids' books, Liz held a range of corporate and writing roles, from Deputy Editor and writer for AsiaLIFE Cambodia magazine (based in Phnom Penh), to researcher for LUXE City Guides and travel columnist for Tiger Airways' in-flight magazine. She's written freelance articles for a range of print and online publications including Travel Wire Asia, AsiaLIFE Vietnam and Child magazine, and her travel tips were featured in MamaMia and Cleo magazine.
Liz has also written and edited marketing copy for companies including Insider Journeys, Raffles Hotels & Resorts and content agency Web Salad. She often dreams of technicolour Asian markets and is always plotting future trips.
~
Follow Liz: