Tulip the ladybug and Brutus the stinkbug never play together! But when disaster looms, can the bugs team up and save themselves?
A fun, stinky story about differences, teamwork and friendship!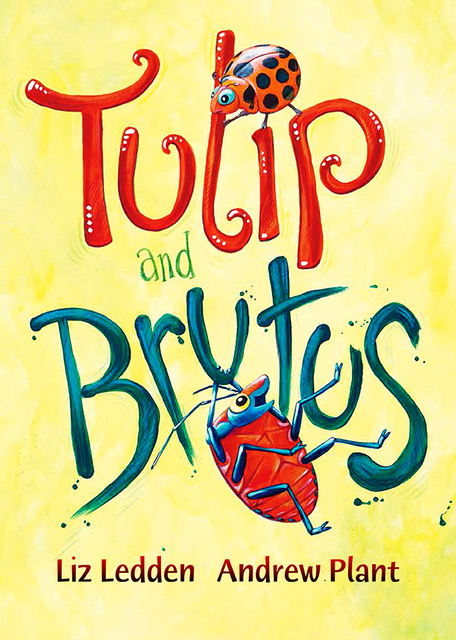 Author: Liz Ledden
Illustrator: Andrew Plant
Publisher: Ford Street Publishing
Distributor: NewSouth Books
Age group: 3-6
Publication Date: 1 October 2019
ISBN: 9781925804355
Author Information sheet: CLICK HERE to download
AVAILABLE NOW!
Included in the NSW Premier's Reading Challenge 2020!
Featured on Children's Book Daily as a 'best book for 2-4 year olds' as chosen by Your Kids Next Read Facebook community

FREE DOWNLOADS FOR KIDS, PARENTS AND TEACHERS:
Fill in the Missing Letters (download the answers here)
Find-a-Word (download the answers here)
Maze – Get Tulip and Brutus to the Playground

VIDEO

BOOK REVIEWS
Here's what people are saying about TULIP AND BRUTUS:
Picture Book Book Club – 'A truly beautiful book about embracing differences , teamwork and learning from each other … Tulip and Brutus will crawl their way into your heart.'
My Picture Book Heart – 'A gorgeous story of differences, teamwork, and finding friendship where you least expect.'
George Ivanoff, author – 'It's a FUN book!'
Magpies Magazine – 'A pleasant and undemanding read for the very young who will enjoy the lively illustrations … the occasional alliteration providing some extra energy to the text.'
ReadPlus – 'A warm tale of friendship, or working together to overcome a common problem and of diversity.'
The Bottom Shelf – '… being different and diverse is natural, but there is much to learn and enjoy through trying new things.'
Middle Grade Mavens podcast – 'It's a charming little book, gorgeously illustrated with a hint of educational value in the background … it is gorgeous!'
Just So Stories (Sue Warren, Teacher Librarian) – 'This is such a perfect book for going back to school time as small children find themselves in a classroom full of disparate personalities and temperaments – many of them for the first time.'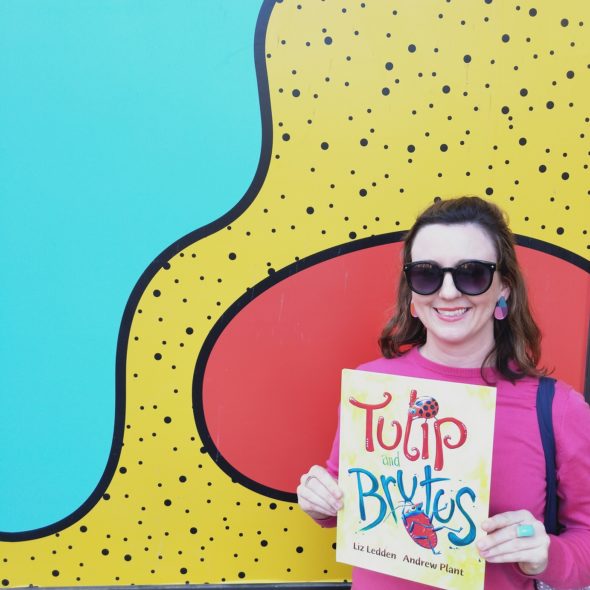 KIDS COMMENTS
Feedback from primary school kids at school visits:
'The story just flows so smoothly.'  (Kindergarten)
'It has great characterisation.'  (Kindergarten)
'It's about being friends with people, even if they're different.' (Year 3)
'I like the way the letters on the front are different and match the characters.'  (Year 3)
'I love the characters' names.'  (Year 3)

MEDIA
Articles and interviews about writing for kids, the path to publication and all things TULIP AND BRUTUS:
12 Curly Questions – Kids Book Review
Liz Ledden on Pitching her Story – Just Write for Kids
Kids Capers interview – One More Page podcast
New picture book news – SCBWI Australia East & NZ
School Libraries: A Place for Friends – Ford Street Publishing blog
Introducing Liz, a ladybug, a stinkbug and their adventures – Weekend Notes
Tulip and Brutus Q&A – Creative Kids Tales
Guest post: Q&A – Kids Book Review
Shine'ing the Spotlight on … – SHINE Business Women
CYA Success Story – CYA Conference
Meet the Writer – Pass It On newsletter issue 729 (for subscribers)
Meet the Book – Pass It On newsletter issue 732 (for subscribers)
The Inside Scoop – BuzzWords newsletter 15 November 2019 (for subscribers)