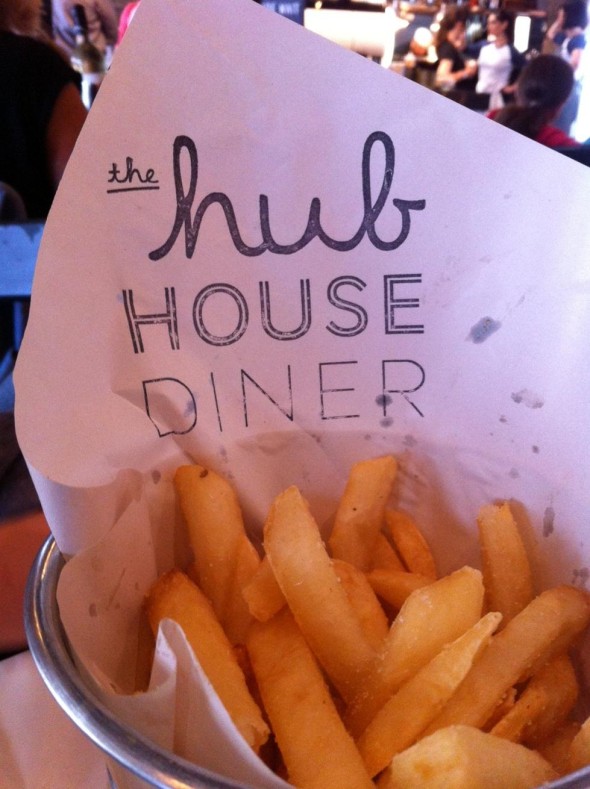 The Hub House Diner is the much anticipated new kid on the Dulwich Hill block, who are luring in the punters with their funky signage, hung so promisingly for a month or so pre-opening. (Yay – something new! And cool! In Dulwich Hill!). With the kids in tow we headed there for dinner on the weekend, but despite arriving early (like 5pm) the buzz of the new meant it was already quite full, not only with families but couples ranging from 20-somethings to 60-somethings – a diverse crowd for a wonderful melting pot of a suburb.
The food is American-style diner fare – burgers, wings, sliders, tacos and the like. We tried the popcorn chicken, small fried morsels of good quality chicken served in a cute metal bucket with sides of fresh, crisp coleslaw and an aoli dipping sauce. Salty, fried comfort food – it disappeared a little too quickly. We also shared some fries, pork sliders and fish tacos – all good, but all in need of a little hot sauce boost, which the friendly staff assured us we should just ask for next time (we will!).
For next time, the burgers sound amazing, and the word is out on their delicious brunch offerings. The Hub House is a breath of fresh air in a rapidly gentrifying suburb, home to some good cafes but still lacking many decent places to eat for dinner, bar a few pizza and Asian joints. And they're licensed, with some interesting Greek wines a refreshing inclusion on the drinks menu. Happy days.
The Hub House Diner, 404 New Canterbury Road, Dulwich Hill, tel: 02 9518 1887