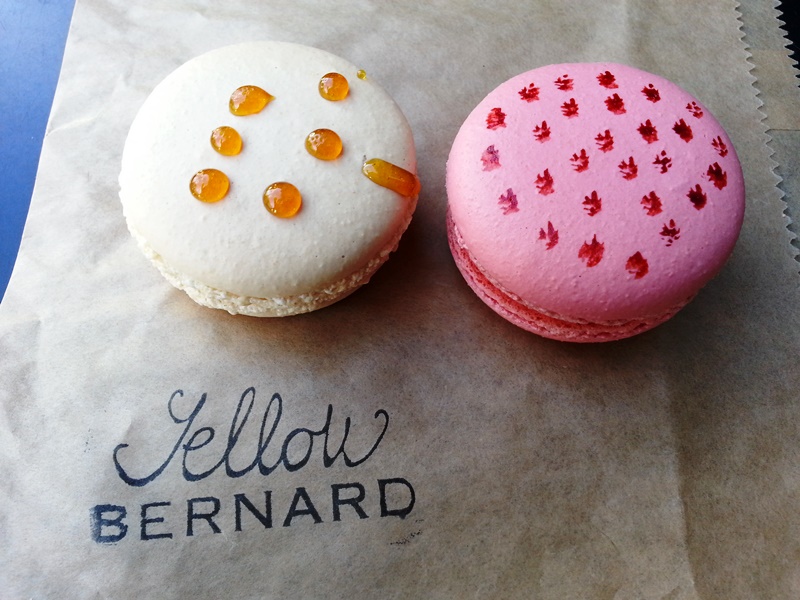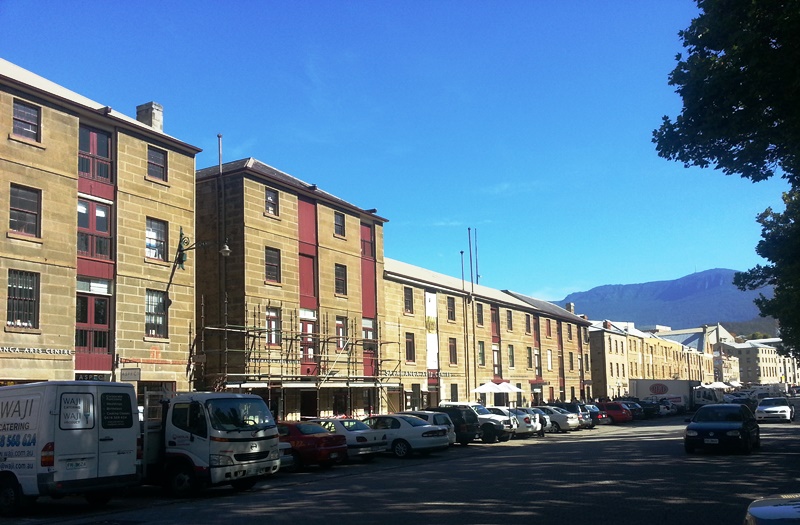 If you're looking for an urban long weekend destination with great food and wine, coffee, shopping and a big dollop of culture (hello,
MONA
) and have done Melbourne to death, how about Hobart?
After a short plane journey from Sydney I found myself transported to a wilder, wintry place, with rolling hills, low-rise development dotted with historic buildings and a low-key, country meets city feel. We checked into the Grand Mercure on Murray Street, a typical business traveller kind of hotel – non-descript, but really comfortable and centrally located. We were on the edge of the CBD closest to the waterfront and Salamanca Place, the perfect base for exploring Hobart on foot. For a dose of maritime Hobart, you can walk along the waterfront past fishing boats laden with traditional basket traps, and stop at one of the floating seafood shacks for some local sea scallops and chips. Along the way, you can drop into photography exhibitions or sample small batch spirits at the Lark Distillery.
Salamanca Place
Down at Salamanca Place (rows of sandstone warehouse buildings converted to shops, restaurants, cafes and galleries) it's a little 'touristy' as you'd expect, but along with a few too many places featuring carved Huon pine are some wonderful finds, like the tucked away Tricycle Cafe with delicious shakshuka and Five Senses Coffee (hint – best coffee we had in Hobart), and Spacebar Gallery, a well-curated shop featuring (non-tacky) Tasmanian made jewellery, clothing, art prints and design objects. For take-home artisan produce, duck into A Common Ground, a tiny gourmet food purveyor tucked under a staircase, owned by Matthew Evans of Gourmet Farmer fame. Make sure you venture upstairs to the excellent art gallery to see what's on.
Jack Greene Bar was my pick of the bars and restaurants at Salamanca Place, with the most extensive list of craft beers (Tassie and international) and a great gourmet burger menu. It has an atmospheric, old-world pub-style atmosphere, and you can head upstairs for drinks in what resembles an old-school gentleman's lounge. The Salamanca Markets are held every Saturday and are widely touted as a must-do, but if you're visiting Hobart from a major city and are used to cool markets you may be disappointed. While some independent Tasmanian producers and designers have interesting stalls there, they're interspersed with a lot of mass-produced junk. The best shopping in Hobart can be found in the small boutiques dotting the town.
Shops
My absolute favourite shop in Hobart was Love & Clutter, a small shop packed with brightly coloured objects from kids toys to fimo beads to fun finds like terrariums. I wanted to whisk everything off the shelves but held it together enough to zero in on a necklace, a confectionery coloured concoction by local label 'I wish I had a little shop'. The girl working at Love & Clutter was an amazing source of local knowledge and her passion for Hobart and its independent design scene was infectious. She insisted on writing down recommendations of other cool places for us, and our taxi driver into the city was also almost excited to point things out to us and show Hobart off. It really feels like Hobart is this cool, arty, interesting little place that still feels slightly off the radar, MONA attention aside. Store & Co. was another favourite shop in the city (all of this is so close together by the way – it was so refreshing being somewhere were most places were within walking distance!). It was packed with design and decor books, homewares, jewellery, cushions, clothes – another place where you want to take everything home.
Food & Drink
At the top of our Hobart eatery list was Garagistes, the city's most lauded restaurant. Anticipating Sydney-like hype and queues we headed there super early on a Friday night and were surprised it was virtually empty. It filled up as we were there though, so it was worthwhile (you can't book). With a sleek, minimalist, industrial-style fitout and communal tables, Garagistes manages to pull off being stylish yet casual all the same. You end up sitting so close to other diners you can't help but start chatting (you can't exactly have a private conversation!). There are two fixed menus at $55 a head for three courses or $85 a pop for five. We opted for the five-course, which had a local seafood emphasis. One of the best dishes was the delicate bay trumpeter sashimi with tomatillo and chervil, though the menu is seasonal and ever-changing, so check their website just before going for the latest. Afterwards we headed to Sidecar, the small bar owned by the same crew as Garagistes and a short walk away. It was tiny and had an NYC Lower East Side feel. There was even a vintage-looking meat slicer on the counter for their house-cured meats. If I lived in Hobart, I think I'd live at Sidecar!
A more homestyle meal was had at Solicit in North Hobart the next night. This had an entirely different vibe to Garagistes (warm and homely, set in a restored old house divided into rooms). We tried local wallaby and a seafood curry, and the obligatory Tasmanian oysters, cheese and wine (Hobart's holy trinity). My other pick of the Hobart restaurants was Ethos Eat Drink, but we unfortunately couldn't get a booking. So for future trips this will be top of the agenda. It features innovative dishes using local produce, dished up in a historic building dotted with lots of succulent plants. If it's possible to recommend a place without actually eating there, this is it. My other pick for a great coffee besides Tricycle Cafe is Yellow Bernard in the heart of the CBD, for excellent coffee and a macaron fix.
MONA
Hobart's drawcard MONA (Museum of Old and New Art) deserves it's own allocated day on a Hobart holiday. First, you board their camoflauge-print boat, complete with graffiti art interior and an on-board cafe (and can even get tickets to the 'posh pit' for champagne and priority service in a separate section of the boat, if you're so inclined. I wasn't.) The journey along the Derwent River to MONA, which is on a little headland on the city's outskirts, is picturesque and charming, and also provides a kind of theatrical sense of anticipation for what awaits.
Afterwards there's more – the food and wine part, where you can dine on upmarket local produce at the Source, head to the wine bar for lunch (the food is delicious – like the smoked ocean trout – and the wines are by the onsite winery, Moorilla Estate), or lounge on a hot pink beanbag on a sprawling lawn while being entertained by a jazz band. It's an all out assault on the senses and the best kind of day trip imaginable.
MONA itself is a mindblowing structure carved into the ground. You enter via a mirrored-walled building flanked by a tennis court, and descend by lift into the building's bowels. It's all a bit Alice in Wonderland-ish and then the discoveries continue with an exploration of MONA's many rooms and eclectic collection of art, from the ancient to the new. The wildly varying art at MONA is what makes it so interesting. One minute you're watching a video installation, then visiting the eerie 'death gallery', examining ancient artefacts then venturing into the slightly nausea-inducing room housing a machine which replicates the human digestive system. Yes, it creates poo. Along the way, you have your own personal iPod-like device called 'the O' where you can read further information about each exhibit, listen to an audio guide and even record whether you liked each artwork or not, and discover the stats on what other visitors thought.
Overall Hobart exceeded my expectations. It doesn't have the rush of Sydney or Melbourne, but a low-key buzz with a strong emphasis on local food and drinks, and handmade design. I've never experienced a place in Australia with such a strong, almost fierce, allegiance to all things locally produced. I kind of get the whole Tassie pride thing now, like Australia's underdog has come into its own, and knows what it has even surpasses what can be found in the rest of the country. The food, the wine, the beer, the cheese are all outstanding, and the local designers give Salamanca Place and the boutiques found in the city an 'Etsy store come to life' feel. MONA is like the cultural icing on the cake in a city full of the unique, whimsical and proudly homegrown.
Update: Solicit and Love and Clutter have since (sadly) closed.