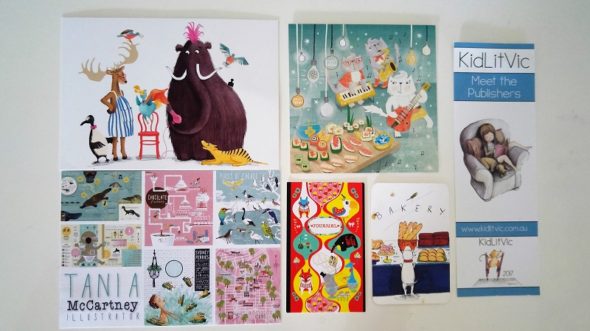 KidLitVic 2017
Pictured above: a few favourite cards picked up at KidLitVic, a fabulous writers' conference now in its second year. My card stash features the work of illustrators (from top left, clockwise): Allison Langton, Caitlin Murray, Nicky Johnston, Luisa Gioffre-Suzuki, Irene Tan and Tania McCartney. Aren't they all amazing?! One of my favourite parts of the conference was checking out the illustration portfolios on display (so much talent, sigh!).
The publisher panels offered the inside word on kids' books, the atmosphere was fantastic, and the organisers (author Alison Reynolds and team) once more did an amazing job pulling everything together. Industry insights aside, meeting up with other writers and talking all things books and publishing was undoubtedly a highlight. Especially when debriefing afterwards over delicious Malaysian food! I stayed at my friend and fellow conference attendee Cat's place, and we managed to squeeze in some Melbourne must-dos (like Readings Kids!) into our whirlwind of a weekend.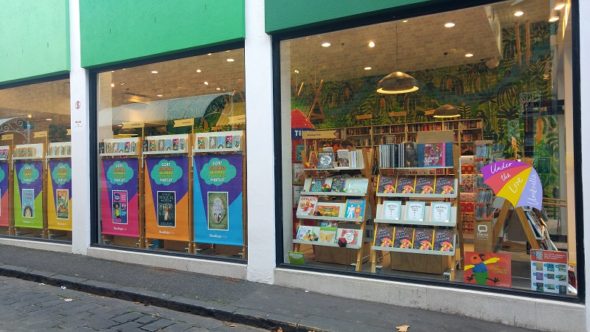 Melbourne wanderings
With Cat and her kids as tour guides, we hit Lygon Street in Carlton for a cannoli fix at the treat-laden Brunetti's, before a book-ish droolfest at Readings Kids. I so wish there was a carbon-copy in Sydney! Packed with everything from picture books to the latest #LoveOzYA reads, you can easily spend hours here (and lots of $!). I came away with a small stack of new reads, including some titles from my kids' current favourite series, Truly Tan and Isadora Moon, about a half-vampire, half-fairy (super cute!).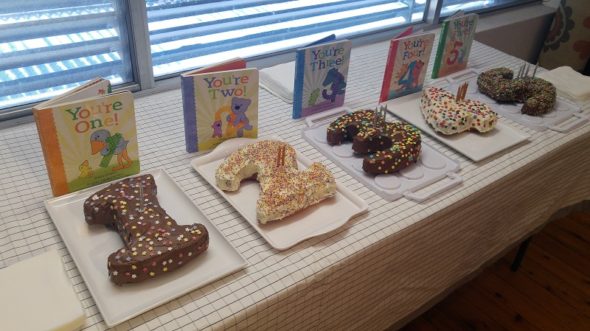 Book launch: The You're Five series by Shelly Unwin
Along with some other writer friends, I attended fellow critique group member Shelly's book launch at The Children's Bookshop in Beecroft. It was the first of several events launching her You're Five series, with a book celebrating each age from 1 to 5. A great concept, and a beautiful package complete with Katherine Battersby's charming illustrations. After introductions from bookshop owner Paul MacDonald and guest author Jacqueline Harvey of Alice Miranda fame, Shelly ran a fun storytime session followed by the perfect accompaniment – birthday cakes!
Natasha Lester author talk
In other bookish news, I went to a fascinating talk at Five Dock Library by Perth-based author Natasha Lester, with a focus on her latest historical fiction novel, Her Mother's Secret. She filled us in on her publishing story, her writing routine and the in-depth research she conducts for her books. Her latest release is set in 1920s and 30s Paris, and centres around the birth of the make-up industry. I love the way Natasha's books weave historical events with issues concerning women's fight for equality (highly recommend her previous book too, A Kiss for Mr Fitzgerald, set in 1920s New York). Natasha is such a warm and open presenter, and it was so nice to meet a writer whose work (and advice-filled blog) I hugely admire.
Sydney Writers' Festival
More books, more authors, more literary fun times! This year's Sydney Writers' Festival featured an amazing program, and their family day was no exception. We took our kids to see UK Children's Laureate and Charlie and Lola creator Lauren Child, who talked about her influences and creative processes. Even Quentin Tarantino movies form the inspiration behind her beloved children's books. We also saw the always hilarious Andy Griffiths, with glimpses of his upcoming 91-Storey Treehouse book, followed by a session with picture book creators Davina Bell and Allison Colpoys. They shared the stories behind their stunning picture book, Under the Love Umbrella, from initial idea and napkin scribbles on a Brooklyn-bound train, to the intensive illustration process. In other SWF news, I did a children's writing masterclass with R.A. Spratt (Friday Barnes/Nanny Piggins). As well as being highly entertaining, she offered some great tips from plotting to using IRL observations of conflict as story fuel (recommended: a Saturday trip to Ikea!).
Cafe Crushes
And to accompany everything bookish – coffee, of course! So many cafes … so many crushes. A few on my radar lately:
~ Concrete Jungle in Chippendale, for their super health-packed bowls.
~ The perfectly tiny Glider (in the same laneway), with the cutest coffee coasters, like mini-wooden pallets.
~ And new Summer Hill cafe, Goodbye Horses – great coffee, music and staff (and plants!), and a backroom that feels just like a dining room in a terrace house.