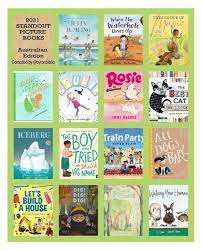 A few exciting Walking Your Human bits and pieces of late:
Book subscription business Bubs and Books included Walking Your Human in their recent dog-themed book box! This is a monthly book box curated by a qualified Teacher Librarian (excellent for gifts) – you can check them out here.
Bibliotherapist and kids' book author Dr Zewlan Moor of Byron Bibliotherapy compiled a 2021 Standout Picture Book list, with the help of a bunch of authorly friends (pictured above). I contributed an absolute favourite of mine – quirky friendship tale A Pair of Pears and an Orange by Anna McGregor (published by Scribble), and was then honoured to see Walking Your Human there too, nominated by author Carla Fitzgerald. Check out the list here for some excellent reads from the past year!
CBCA's Reading Time newsletter also included Walking Your Human in a round-up of 2021's best reads, as picked by their team of reviewers. On WYH: 'full of humour, engagement and diversity in both people and dogs and there are many discussion points for younger readers'. Yay!
A Korean translation of WYH is on its way – stay tuned for news, and I cannot wait to hold a Korean version in my hands (and take it out for celebratory Korean fried chicken or bibimbap!).
Did you know WYH is available in paperback? It's only $13.95 via Booktopia at the moment!
Auction alert! Amazing author Zanni Louise's huge auction to support the town of Lismore, NSW in its recovery from the devastating floods has so much to offer. I have a 3-book Tulip and Brutus book pack (with some merch and bug fun included), as well as three spots on One More Page podcast for kids' book promo. Check out the huge array of items on offer here!