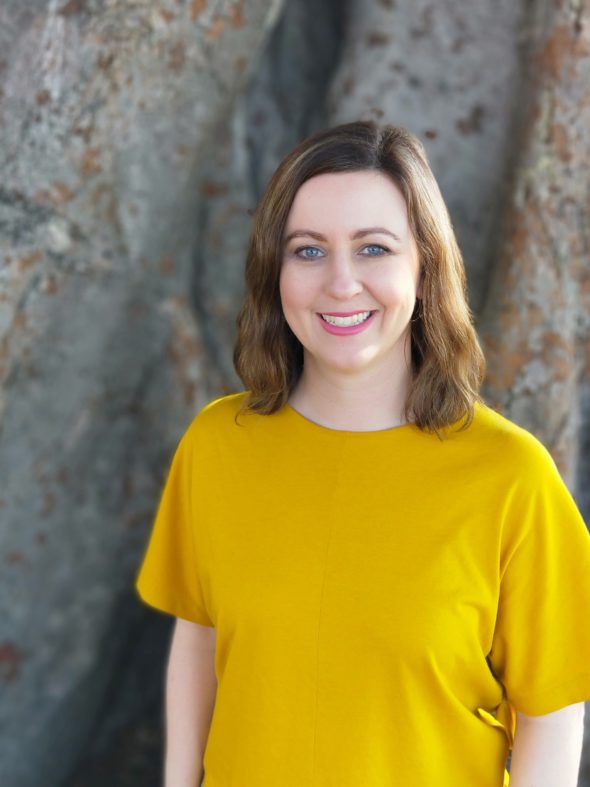 Liz Ledden is a Sydney-based children's book author, who writes picture books, junior fiction and middle grade.
Her debut picture book TULIP AND BRUTUS was released with Ford Street Publishing in October 2019. It's about friendship, differences, teamwork … and bugs! She has another picture book due out in 2020 with Larrikin House.
Liz also co-hosts kids' book podcast One More Page with friends, authors and book lovers, Kate Simpson and Nat Amoore, where she interviews kids' book industry professionals, reviews the latest books and lapses into the occasional laughing fit.
Liz has lived in Vietnam, Cambodia and Canada, and has a rescue dog named Frankie who acts like a cat. She can typically be found seeking out new cafes or maxing out her library card.
More …
Podcast
One More Page is a fortnightly kids' book podcast featuring interviews, book reviews and a kids-led segment. It's available on iTunes and podcast apps, and was a Finalist in the Best Newcomer category of the 2018 Australian Podcast Awards. Guests have included authors Deborah Abela, Jacqueline Harvey, Paul Jennings, Cate Whittle, Tim Harris, Zanni Louise and many more, plus publishers, book sellers and other kids' book industry figures.
Children's Writing
In 2015, Liz completed an MA in Writing and Literature via Deakin University, majoring in Children's Literature. She holds a BA in Media Communications, has taken several writing workshops via Writing NSW and the Australian Writers' Centre, and is currently honing her creativity in the Scribbles course run by author Jen Storer. Liz has won awards for her writing through organisations such as CYA, Writers' Unleashed and Greenleaf Press. Details can be found here.
Travel Writing
Before delving into the world of kids' books, Liz held a range of corporate and writing roles, from Deputy Editor and writer for AsiaLIFE Cambodia magazine, to researcher for LUXE City Guides and travel columnist for Tiger Airways' in-flight magazine.  She's written marketing copy for companies including Insider Journeys, Raffles Hotels & Resorts and Web Salad. Liz also wrote about food, travel and expat life for a range of print and online publications including Travel Wire Asia, AsiaLIFE Vietnam and Child magazine, and was featured in MamaMia and Cleo Magazine. She still dreams of technicolour Asian markets and is always plotting future trips.
Follow Liz on: